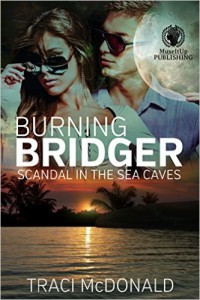 Genuinely impressive and worth reading novel
'Burning Bridger: Scandal in the Sea Caves' is a novel with a balanced pace, intricately developed in the genre of romantic suspense, entwined with vivid details smartly set in the lives of its two characters mainly.
Scars on soul from a brutal rape and death of a close friend in a tragic accident will bring Lily Pinion close to bouncer Bridger Jacoby when destiny forces Lily to escape from ranch house of her father to isolation in Maui- Hawaii.
Author Traci McDonald is sure to amaze her readers with her creativeness and talent of story narration as she keeps throwing her characters into situations intriguing enough to keep the reader engaged and interested by remarkably bringing them to life.
'Burning Bridger' mixes suspense with fiction and delicate touch of romance to create a captivating story.
Tracy McDonald's novel is a suspense thriller with diverse capabilities where characters will beat the odds of life in a fight face to face with the evil antagonist bringing out an entertaining mystery with palpable trepidation oozing out from every chapter. This book is genuinely impressive and worth reading for its well thought out story line. Its a must read.