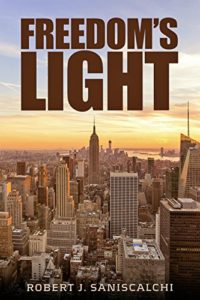 Reconstruction of the tragic 9/11 & its aftermath.
Author Robert Saniscalchi has penned down a masterful fictitious narrative based on the bitter past of U.S. by reconstructing the tragic event of 9/11. Featuring a snappy relationship of three brothers (Paul, Roy & Rob) engaged in hearty leisure time of a hunting expedition, author skillfully highlights and brings out the character of 28 year old Rob, a U.S. army veteran and a team member of 'Special Operations Delta Force' where during a casual chitchat Rob updates his brother about his livelihood and hardship at the military and a silent war being waged against terrorism.
Poignant, yet brilliantly told 'Freedom's Light' unfolds itself delivering a wild ride of thrilling quest and dangerous assignment tasked to Rob against the evil of terrorism. Vividly detailed settings entwined with intricately developed evocative prose is explicit and author manages to evoke the emotional attachment for those who have suffered brutally at the hands of terrorism and its ugliness around the world.
Action oriented, tense and dramatic, author Robert Saniscalchi's fictional thriller is a captivating modern-day parable that is relate-able and entertaining. Those looking for a powerful reality based page turner are sure to be intrigued by 'Freedom's Light'.