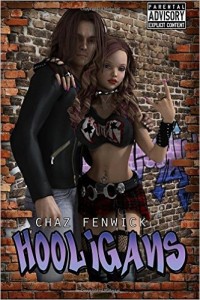 Fiction full of dark reality.
Delivering a wild ride of unexpected twists and turns author Chaz Fenwick smartly portrays the less witnessed, dark side of the youngster gang world- spinning his tale around two gangs- The Metal Heads and The Westside Homeboy Gang. Dayne Hetfield's relation with the member of Westside gangsta's girlfriend leads to the horrifying feud bringing in brutal violence and bloodshed amongst the two gang members.
'Hooligans' is an engaging read with original concept and believable characters that whisks the readers immediately away into a highly well imagined lifestyle of 'today's' misguided and spoiled teens. Author Fenwick's creativeness was just amazing as he kept throwing characters into life-like situations, intriguing enough to keep one interested and captivated, plotting a hooking read out of the dark disturbing & often ignored criminal activities of youngsters.
Author Chaz Fenwick's 'Hooligans' moves at a breakneck pace and is combined with a writing style that provides vivid mental pictures of the characters that are complex and are remarkably brought out to life.
Those looking for something to read based on reality and not fiction, this action packed, thrilling novel makes a perfect recommendation for them.