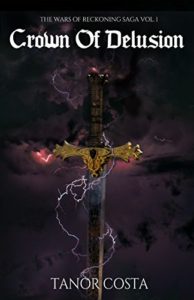 Poignant yet enchanting journey of a young boy.
Embedded in the world of grit and action amidst corruption and greed 'Crown of Delusion' is an epic fantasy read in every sense of word with perfectly paced authentic details and believable cast of characters. King 'Vicar Hamens' brutal assassination by his most trustworthy knight Amar turns out be a horrifying nightmare for two young boys Sar and Eloy who are forced against will to flee from the Kingdom of Bellos with the help of an elderly mage and king's advisor Faulker.
'Crown of Delusion' is ultimately a triumphant tale of a young boy Eloy who eventually fights his way through terrible adversities and odds of destiny to avenge his brother and rid the kingdom against the greed and evil rule of Amar. Author Tanor Costa is a storyteller with a classical style of a bygone era who goes well beyond expectation giving his readers a brilliant imaging of battle right alongside a detailed world building that is intricate with intense action and intriguing narration.
Tense and dramatic with diverse appeal author Tanor Costa's novel is an entertaining read that will sharpen fans appetite for the next installment. 'Crown of Delusion' is a poignant yet enchanting journey of a hero that is worth reading. Highly recommended.