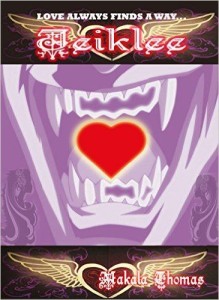 Explore the mesmerizing world of magic…
How would you react if you realize that you posses magical powers which are far beyond the imagination of  the so called 'normal people'. This is exactly what Jeiklee's adventure is all about in the novel 'Jeiklee' by Makala Thomas where an eighteen year old tall, dark and handsome boy, Jeiklee discovers about his unusual 'magical powers' which he has inherited from his real parents- a witch mother Leticia and a Dracula father Westley.
Jeiklee's unawareness of his relation with his real unusual family (a witch mother and a Dracula father) brings him in touch with a spirit Mckenzie who is determined to convince Jeiklee of his magical powers and to take him to a magical world of 'Severna' which is full of his kind.
Author Makala Thomas's novel is sure to hook her readers from the very first page which opens up with very captivating lines paving way further for an entertaining paranormal read full of surprises with a perfect blend of emotions well woven into an amazing imaginary story.
The characters of the novel are amazing work of imagination, one can easily connect with. The novel 'Jeiklee' is one of the most captivating novel of its kind despite of its genre of paranormal fantasy which is considered to be scary and 'not for all readers' kinds.
Jeiklee is recommended to all! Just read and enjoy a wonderful work of talent touching the heights of imagination. It has all-drama, emotion, romance and magic with a zing of surprises!