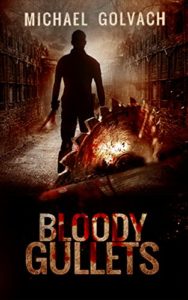 Diverse appeal both poignant and optimistic.
With exquisite imagination and characters some endearing, some shady and complex, author Michael Golvach complies 'Bloody Gullets' with 20 short, compelling stories of emotions and survival tales concerning the very nature of humanity written and put across in a monologue form of speech. Vividly detailed settings intertwined with intricately developed plot to create an exceptionally immersive reading experience, each tale unfolds at a reasonable pace and builds a stunning and engaging conclusion without being overly tedious.
Author Michael Golvach is a truly gifted writer who is a master of his work and weaves each story with diverse appeal both poignant and optimistic- full of well paced action and surprises. 'Bloody Gullets' is a sweeping-off-the-feet-attention grabbing book that has a bit of everything which makes it well rounded and will appeal to readers of many genre. If you love and are looking for a novel with charismatic, troubled and multidimensional characters then this masterpiece with tale of survival, growth, loss love and struggle is meant to be yours. Highly recommended to readers interested in short stories with strong story line.