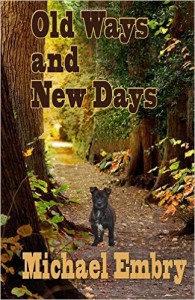 Don't judge a book by its cover
Novel 'Old Ways and New Days' by Michael Embry is sure to change our perspective towards the concept of retirement and a retiring person living a rest full, enjoying life when he takes his readers through the enchanted yet thorny path of a sixty four year old 'John Ross' who has worked for the newspaper 'Post Chronicle' for the last 27 years and is now all set to discover to his amazement a whole new way and days far beyond his imagination and above all a crime to solve at hand of a killer who breaks through and vandalizes homes.
Author Michael Embry kept everything fresh and fluid as the plot continued to unfold with a lot of different characters with very diverse personalities. Mastery over the language and events described artistically kept the novels entertainment touching the inquisitive heights.
Definitely there is much more to our 64 year old aged protagonist John Ross to be discovered and learnt as he tries to adapt and react to life and surroundings beyond the four walls of his long lived working life.
Overall 'Old Ways and New Days' is an enjoyable and entertaining read, highly recommended to all in love with a good, flawless book.