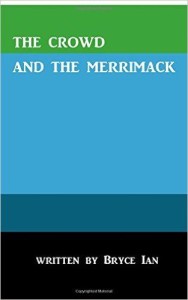 Fond memories through dark paths.
Author Bryce Ian is sure to bring back some fond, cherishing memories of school days for his readers. 'The Crowd and the Merrimack' turns from light-hearted read into a suspenseful dark tale with a twist as the narration goes down further with the life of our teenage high school student Conrad O' Connor, who is nonchalant or acts as he is to show the insouciant behavior as many teenagers do to act 'cool' until his easy-happy daily school life is stirred by the inexpressible behavior of his few classmates.
Author Bryce Ian has very artistically touched a very sensitive subject of teenage student's school life and very well portrayed their mood swings and feelings which are far from the logical reasoning of adulthood. Though we all have been through the phase of teenage fascinations and fads but somewhere at some point we all fail to understand and lend a helping hand at solving their problem which can sometimes mislead and make them do damage which can never be corrected.
Last but not the least 'The Crowd and the Merrimack' is a short, entertaining read which, very well depicts the high school life from the perspective of a young student giving its readers the visualistic glimpse of their once fresh, charming past. This novel is bound to take its readers down the fond memory lane, through the dark paths of Conrad's life. Highly recommended.