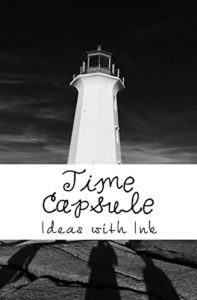 A treat poetry lovers are sure to appreciate.
Anchored on the framework of life's many distillations 'Time Capsule' varies widely in formats and lengths with number of different themes that are simplistic in scope and eloquent.
Ideas with ink (poet) is an aspiring writer who delves deeper into his own imagination and bravely gives voice to his subject matter that is often not shared freely and expressed by his age group. Incisive, evocative, imagistic modulated with infinite care, sophisticated and nostalgic, this sumptuous collection of poems creates an uplifting experience for the soul and the mind when examined closely and read thoughtfully.
It was a delight to notice poets social consciousness that was evident through his remarkable well rounded work where he flawlessly supplies his own visual accompaniment that complimented the poems. 'Time Capsule' is definitely a treat that all poetry lovers are sure to appreciate and will love to give or share with family and friends. Highly recommended for all the fans of the genre.