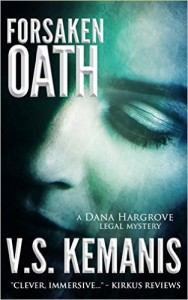 There are prices to pay for the position!
With great position comes greater responsibility but at times we have to pay a high price for responsibility. This position is sure to fall hard and heavy on Dana Hargrove ( a chief of a major trial bureau in the Manhattan District attorney office). Dana's plan for a family vacation is ruined as the obstacles of envy and enmity from the past stands in her way of peace and family time when Ellen, sister of a sinner brother is determined to leave no stones unturned to free her brother from prison, throwing Dana at the mercy of a well planned conspiracy.
Superbly woven with intriguing narrative 'Forsaken Oath' is a legal fiction mystery thriller very close to reality as author Kemanis uses her years of experience (she was a criminal prosecutor for country and state agencies) aptly, hooking readers and giving them a plot to envision every nook and corner of the courtroom involving criminals, suspects, judges, attorneys and officers of the law.
Author definitely has a strong grip over her subject as she smartly brings out the different dimensions of human emotions and relationships intervened in an engrossing page turner.
'Forsaken Oath' surely gives an insight in the life of a working women, who strives hard on daily basis to maintain a perfect and healthy balance between work and family fighting hurdles in their way.
This book is highly recommended and deserves to be widely read for its flawless story line with edgy plot.