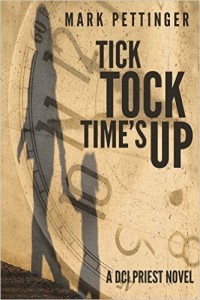 An engaging crime thriller!
'Tick Tock Time's Up' is an engaging and interesting crime thriller by author Mark Pettinger which is sure to take his readers on unraveling a mysterious crime filled path of child abduction.
This amazing book captivates from the very first page revealing the difficult life of a refugee couple Dion Masani and their 2 year old son Aikki until the very next chapter comes with a horrifying opening up case of disappearance of an eight year old Joshua Hardwicks who has been picked up by a stranger from school and has been abducted for a reason unknown to his parents and DCI Priest who becomes in charge of handling this case of crime. The story further gets tensed and thrilling when the kidnapper contacts Joshua's parents and threatens them to receive a part of their son with every contact till 9 days.
Author Mark Prettinger gives a great challenge to his readers with his fast paced, flawless crime thriller tying all the chapters into an amazing link connecting well with the characters giving his book an unexpected end which was unpredictable at the beginning of the book.
Though 'Tick Tock Time's Up' is my first read in the series of DCI Priest Books, I thoroughly enjoyed reading it with its very connecting characters and strong subject of child abduction.
I would love to highly recommend this difficult to put down crime thriller to all those looking for an entertaining crime fiction, with a strong story line.