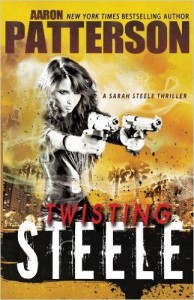 Twisting crime fiction thriller
'Twisting Steele' by Aaron Patterson is simply an awesome crime thriller fully packed with action and adventure where 'Sarah Steele' our main character of the novel takes a vacation off to Rio from her high profile job of ADA with her best friend 'Mandy'. before the best friends could get really involve and indulge in the relaxation of their well thought vacation Sarah is warned by her 'not official boyfriend: Solomon' about a girls gang known as 'The Blondes' for kidnapping rich American tourists for their accounts and credit cards.
Sarah Steele get more involved and pulled in the mystery solving since when she witnesses the kidnappers change to murderers.
The writer Aaron Patterson has set a wonderful plot for the book full of mystery, crime suspense and a strong story line.
I felt deeply in love with the young, adventurous, fearless characters of Sarah Steele in contrast i simply hated 'The Blondes' for their ruthless cold blooded murder and suffering they caused to the innocent women they kidnapped.
The novel gets very interesting with a turn of every page and captivates its readers whether they have a like for an action mystery genre or not.
I simply love the Sarah Steele thriller series and cant wait to read their next book 'Melting Steele' i would like to thank the author Aaron Patterson for writing such an interesting book and giving us good and mesmerizing read. This book is simply highly recommended to all those interested in fiction thrillers with a great story line.