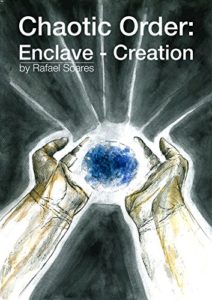 A start of a promising series
Lypri Nmerga have turned against their own race for the greed of power leaving Legendary figures to battle over the fate of universe in author Rafael Soares Enclave: Creation (Chaotic Order Book 1).
Offering some interesting fragments about apocalyptic tale of survival and justice author Rafael's novel is destined to engage and capture the imagination of his readers through immersive, fleshed out plot as the bold warrior humanoid- Aurindor decides to take control over the situation of the dystopian universe and opts to help the oppressed and punish the assulters of peace with the help of a companion whose camaraderie is sure to trigger many intriguing adventures.
Detailed flashback placed at the beginning of the novel manages to evoke emotional attachment for the heroic character of Aurindor painting pictures of stark task embodied powerfully in the setting of the sci-fi as the novel unfolds. With a new twist around every corner, author delivers a complex tale of greed, obsession and survival that will keep the readers turning page after page.
Enclave: Creation (Chaotic Order Book 1) is surely a start of a promising series in the sci-fi genre with an affable appeal that is highly recommended.