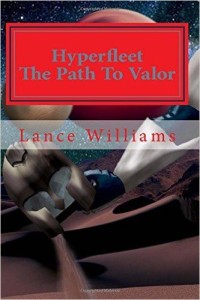 A well imagined, action packed sci-fi!
'Hyperfleet The Path To Valor' by Lance Williams is simply a well plotted sci-fi novel with wonderful and strong characters like Admiral Jendarm, Captain Hevlar, General Yavir, Commander Teize and many members of Hyperfleet who are to take readers to a journey of establishment of a new empire which is taking place in space with a lot action packed wars fought by huge well equipped and well designed space ships.
The novel leaves no loose ends, touching political, cultural, and supernatural aspect making the storyline more captivating for its readers to be glued till the last page.
Author Lance Williams has proved by his book that women play an important role and are equally confident and strong in no-matter-any circumstances and situations whether it be our day to day life or war of the new scientific era in galaxy like General Yavir and Commander Carrow in the novel.
I really enjoyed authors description about war, war ships, characters of the book, galaxy and war scenes making the book easy to visualise for readers and connect themselves well with the authors own imagination. There is definitely more to 'Hyperfleet The Path To Valor' which is sure to keep everyone who reads it, well entertained and guessing till the last page.
I would highly recommend this book to all esp. to those interested in sci-fi genre and all young minds to learn from author Lance Williams fresh and vast sense of imagination..its a wonderful read!