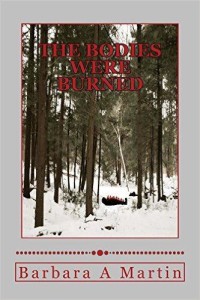 A perfect blend: suspense, romance & murder mystery!
'The Bodies Were Burned' by Barbara A Martin is an amazing book in the genre of murder mystery which starts with a wonderful strong headed, bold and enthusiastic lady Marge Hampton who is an administrator in a hospital in Pigeon Forge, Tennessee Mountain Springs, staying with her best friend Abigail Adamson- Abby who is the director of nurses at Mountain Springs Hospital. Marge has lost her parents in an accident and is divorced by her husband but even after the painful past experiences given by life to Marge, nothing can stop this amazing being from living life to the fullest.
The novel has many other interesting and appealing characters like FBI agent Paul Froman, Bill, Mary( Marges secretary) and many more which will surely increase readers interest in the story and captivate them to keep turning the pages till the end.
Though mystery starts with burned dead bodies but i personally found my curiosity running behind Marge and Paul Fromans blooming mature romance which had its own twists and turns.
I would love to praise the talent of author Barbara Martin for turning the romance between mature and aged couple so interesting that though the novel is a murder mystery but it keeps its readers light headed and engaged in wonderful relationships and emotions like friendship and love.
I would love to highly recommend this book to all esp. mystery and romance lovers, i bet no reader will regret picking this amazing book as a vacation buddy.Its a must read!!