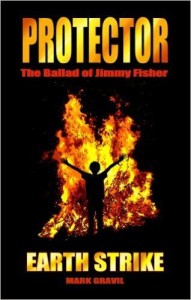 Amazing Scientific Fiction!!
'Protector- The Ballad of Jimmy Fisher' by Mark Gravil is an amazing science fiction about Jimmy Fisher and his teenager friends Lily, Pete and Eddie.
Jimmy is an ordinary student in school but he is unaware of his special qualities which are undiscovered by his family and friends until one day when he encounters an alien and the planet Earth is captured by alien race Jhuurdreng Corporation.
Author Mark Gravil's book has an interesting story line about teenagers, getting involved in an alien invasion with mind blowing imagination , realistic description of spaceships and superior alien race that strikes earth.
The book is so written that readers can effortlessly feel the emotions of characters and get well absorbed by the story.
'Protector- The Ballad of Jimmy Fisher' will make a perfect sci-fic movie series and i am sure it will make all teenagers its fan!
I really enjoyed every chapter of the novel and it kept my interest level high until the last page. I would highly recommend this book to all esp. young readers with interest in universe and the alien world.