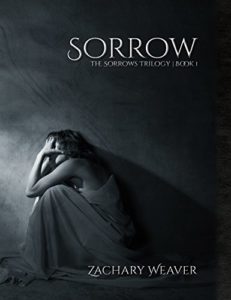 Not your usual dark stereotypes paranormal!
Modulated with infinite care, 'Sorrow (The Sorrow Trilogy Book 1)' is a spellbinding fantasy narration that is imagistic, saturated with super natural mystical undertones that is not your usual dark stereotypes paranormal but is delightful and original in concept.
A sudden transition into the 'perfect' mystical world of vampyres (a genetic variant of human) created by Kara leaves Jalix bewildered and inquisitive about secrets yet to be revealed by Kara, that will shape up her lovers existence.
'Sorrow (The Sorrow Trilogy Book 1)' is a fast paced read that whisks readers immediately into a highly imaginative plot with thrilling up comings as characters learn to beat the odds of their destiny. Packed with palpable trepidation and intriguing descriptions, author Zachary Weaver develops and delivers a wild ride of unexpected twists that young adults and fans of the fantasy will adore. With this author has proved himself a worthy successor to carry on the series skillfully through his superbly crafted first installment that is highly recommended.