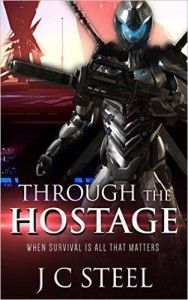 Survival through the odds…
Author J.C Steel's well imagined and perfectly plotted Sci-fi –"Through The Hostage" is sure to take her readers on an amazing imaginary adventure of space where exists a world on an alien planet with its captivating characters like the very appealing Commander of Mercenary Cortii group 'Khyria Ilan' and her unofficial second 'Taiva'. Khyria experiences an out burst of emotional twists in her life when she is ordered to take a human as hostage -'Jack' for the test which are necessary for the survival of Khyria's unit.
Author J.C Steel gives a whole new and wide dimension to the imagination of her readers with a perfect weave of emotions, suspense, mystery and struggle faced by the real-like characters of her novel living in the space on another Alien planet. Mystery and entertainment keeps building by the turn of every page making the readers inquisitive and wanting for more.
'Through The Hostage' is a wonderful Sci-Fi with a perfect blend of emotions and struggle for survival through odds.Highly recommended to all and esp. to young readers with interest in the genre of Sci-fi!