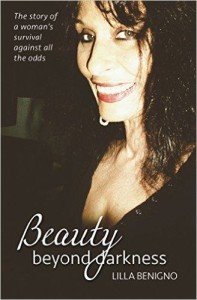 An inspiration for all, a salute to Lilla!!
'Beauty Beyond Darkness' is a heart warming, inspiring and a touching memoir of Author Lilla Benigno, who was born in Italy and was struck with 'Poliomyelitis' at the age of six months after birth, severely effecting both legs and an arm of Lilla Benigno, making her life miserable but unstoppable.
Author Lilla Benigno not only had to fight with life threatening physical torture of Poliomyelitis but also went through the soul-slicing pain of suppression, rape and exploitation which did not put an end to Lilla's spirit of living life to the fullest, instead she emerged as a fighter defeating and leaving all the odds of life behind as a past; all after ten years of deepest darkness.
Definitely Lilla's memoir brought tears in my eyes but on the other hand by the end of the novel, I felt like saluting such a courageous women who is sure to make a perfect inspirational role model for all women who are going through the odds in life, no matter in what terms.
I love you Lilla, for writing your book 'Beauty Beyond Darkness!' Your life is an inspiring, eye opener and preacher for all. I highly recommend this novel to all and esp. to all women, with a moral that nothing is impossible if you aim to get it! Its a must read!!