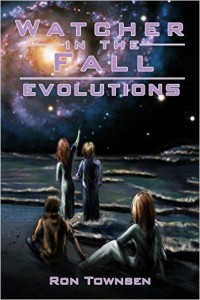 End of the cliff- hanger!
'Watchers in the Fall: Evolution' is the third book in the series of 'Watchers in the Fall' by Ron Townsen. An interesting and entertaining 'cliff-hanger' which was maintained in the previous two volumes comes to an end in this novel carrying further some of its main characters from book 2 like Jxry (WG), Nicky Scott, Tia, Sxxty and many more.
The book continues with action packed adventures from the edge of the universes watchers in Andromeda to Earths watcher, where M+ theory derived tools are used for protection of lives by DARPA BELLOWS team, while 'the three old ones' ( a race from other planet)- Styve, Uvan and Mext finish their final review in experimental lab issuing the last commands mentally to computer connecting the power generator with the watcher field generator.
I dont want to have an advantage of reading the book alone and enjoying its adventurous story line over readers and other sci-fi lovers, so i won't give away much by telling about the 'mysterious' heights touched by Ron Townsen in entertaining his readers.
I would like to recommend all readers, esp. those who have read the other two previous books in this series to get a copy of Watchers in the Fall: Evolution and quench their thirst of wanting to know further more from author Ron Townsen!