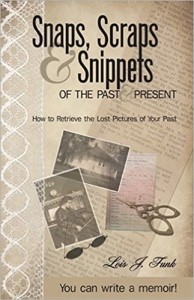 A generous gesture!
We all own memories- some good, some bad but at times, lack the encouragement of preserving them in form of writing and let them grow stale out of time, but still they remain important part of our past personality and lives which if shared would turn out to be a delightful read for our loved ones or for anyone we cared for. This is why I'd really thank and say that it is very kind, thoughtful and caring of author Lois J. Funk to share her special talent of writing with her readers and motivate them to put their memories down on paper in form of poems, memoirs etc.
'Snaps, Scraps and Snippets' is definitely an incredible treasure of knowledge, ideas and inspirations for new writers. Author Lois Funk uses her beautiful memories of childhood days with her loving family and her travelling adventures with her husband and son aptly with a gripping style of narration, setting examples of writing a perfect memoir and showcasing the talent that can only come from real life experiences.This book is a treasure of a knowledgeable, inspiring read and a generous gesture of a talented writer for her readers.
I highly recommend 'Snaps, Scraps and Snippets' to all those who want to write and share their memories.