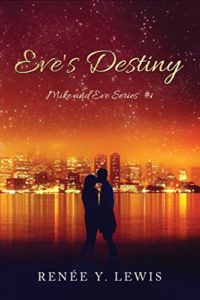 A promising debut that is highly immersive.
A promising promotion at 'Colby Designs' brings independent, headstrong Eve Townsend to New York city far from her dearest and closet friends and home town San Francisco when a crime investigation intervenes Eve's destiny with handsome NYPD detective Michael Mc Garrett, leaving sparks flying from the very moment their eyes lock with each other.
'Eve's Destiny' is an absorbing contemporary romance with affable appeal where author Renee Lewis adds well balanced elements to her story that frighten yet entertain her readers with immaculately thought out well-paced mystery, thrills and drama. Impressive with evocative prose and intricate narration, author Renee paints vivid pictures of her characters world with smartly placed flashback to heighten the tension of the plot.
Author Renee Y. Lewis is a truly gifted writer who weaves a story that is at once complex, surprising, full of well paced action and budding romance that serves to fully engage readers and keeps them turning pages till the very end. 'Eve's Destiny' is a promising debut that is fresh, absorbing- original series starter, bolstered by a dynamic camaraderie. Highly recommended.