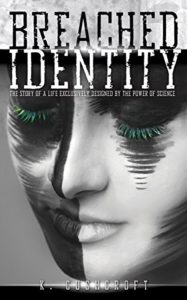 A brutal, honest account of unimaginable pain.
'Breached Identity' is a compact piece of poignant, heart wrenching, brilliantly reconstructed memoir based on actual abusive and brutal sufferings that occurred in author K. Cushcroft's life.
Miss Cushcroft's life was turned into a living hell by two men who sat behind her one evening in her office. The secret implantation of a powerful dominating hypnotic system  in Miss Cushcroft's body left her at the mercy of barbaric program completely suppressing and restricting her physical activities at home and in office. Her discomfort was concealed by everyone around her, putting up through unthinkable and unimaginable torture and experiencing punishment as innocent victim by witnessing the deteriorating relations around her personal life, at home, and in her surrounding was commendable.
'Breached Identity' is a brutally honest account of authors troubled history and her coming to terms with inhuman dictatorial act plotted secretly against her body, soul and life which is sure to immerse readers and give them a topic to resonate with, long after the last page has been turned. This is a unique, thought provoking memoir definitely worth reading.