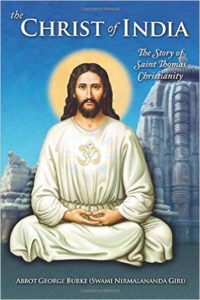 The Christ of India: The Story of Saint Thomas Christianity
Author Abbot George Burke weaves his research and knowledge expertly into his book 'The Christ of India' bringing out high quality content that highlights strong connection between Jesus and India. By tracing back the history of foundation laid by Apostle Saint Thomas, author enlightens the knowledge of his readers regarding the unique form of christianity known as 'Saint Thomas Christianity' in India.
Interpreting the teachings of Jesus from the perspective of Santana Dharma, 'The Christ of India' is a knowledgeable yet engaging collection of authentic details and evident manuscripts about the Essene roots of Jesus and his 'Lost year'. An invaluable book for anyone desiring to know more about Jesus; delightful to read and a work of substance, vividly written and rich in historical analysis, this is an excellent work written by a masterful teacher & a storyteller.
I was genuinely impressed by the wealth of knowledge author has in his subject material and the way he distills research into an informative read that is not restricted to any religion, region or age. This book is an enriching gem of historical knowledge that deserves to be highly appreciated and possessed by all mature readers. Highly recommended.