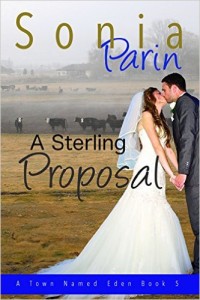 The up comings of 'A Town Named Eden'
Inheriting a 'family home' brings Zoe Wilde to the town of Eden, bonding with half sisters- never met before, Zoe is all geared up to make up for the past she had missed on. Feuds with townsfolk leave Zoe determined to restore the Wilde's shredded reputation of a bad family past. Dealing with the challenges of living in the small country town, Zoe learns about an unusual caveat included in her fathers will that states either the inherited Wilde building can be sold to a Sterling or Zoe has to live in Eden for a year. Tying all the loose ends, Zoe feels 'Luke Sterling' is the answer to all her questions as she cant get her mind off the attraction towards this handsome, strong man with whom the relationship is to shape up the future of Zoe Wilde in the town of Eden.
Author Sonia Parin uses her knowledge over region and culture to craft an intriguing novel, painting vivid pictures of the characters and their engaging tale for readers to lose themselves in the depth of the plot.
'A Sterling Proposal' is a simple, straight forward, gripping tale, well woven with naturalistic circumstances faced by life-like characters that keep the readers entertained and interested till the every end.
It will be a pleasure to recommend this amazing piece of read to all those who believe in emotions and strengthening relationships.