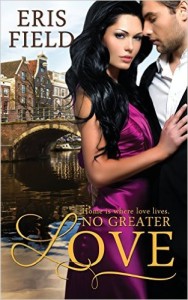 A real feast to the soul and the mind!
'No Greater Love' is a masterpiece of contemporary romance, artistically mingled with survival tales concerning the very nature of humanity, family values and individuality.
Unfolding an engaging tale with diverse appeal author Eris Field brings in a mesmerizing circassian beauty – Janan whose destiny intertwines with a Dutch psychiatrist- Pieter leaving the duo in love that is sure to be tested by the turmoils of life.
The characters of Janan and Pieter are deeply interesting and appealing and are thoughtfully embedded in a believable world well painted by author Eris Field as the plot moves along at a perfect intriguing pace with rich description adding spice to the already engrossing narrative.
'No Greater Love' is definitely a piece of well researched work that shows author's true love and understanding of different cultures beautified by the dedication of underlying moral of helping the refugees irrespective of their age from the conflict, terror, abuse and losses.
Those looking for a read in the genre of romance Eris Field's 'No Greater Love' is a book that is real feast to the soul and the mind. Highly recommended.