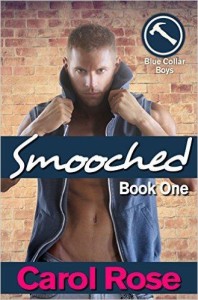 Love with responsibilities..
Steaming hot and handsome carefree bachelor Case Thompson's life takes a sudden turn when his elder brother and sister -in- law die in a car accident, leaving Case with a responsibility of their 8 yr old girl child Kaylie. Before Case Thompson could take charge  of new upcoming twists in his life, Morgan, his deceased sister-in -law's twin enters Kaylie's life with a determination of strengthening  relationship with Kaylie giving worst life could ever bring for case.
'Smooched' by Author Carol Rose is a well plotted and well scripted contemporary romantic novel with a perfect weave of emotional family drama. Innocent character of Kaylie, handsome irresistible Case Thompson and stubborn and determined Merritt Morgan make the novel the most entertaining and captivating read where the readers are taken through the ups and downs of an unusual life the characters are coping up with. Though not ready to accept each other, the budding romance between Merritt and Case comes as a boon in disguise for the readers.
I would highly recommend 'Smooched' by Carol Rose to all readers interested in the genre of contemporary romance with a perfect blend of twists of family drama.