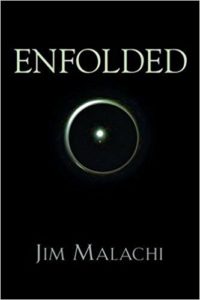 Evocative prose & picturesque imagery- worth the read.
'Enfolded' is an entertaining and spell binding sequel to author Jim Malachi's novel- 'In All Ways' that is fast paced and whisks readers immediately away into a highly imaginative and fanciful lands of beings and characters with situations intriguing enough to keep one interested and engaged.
It is amazing to witness authors creativeness as he brings to life vividly detailed settings entwined with intricately developed culture to create an exceptionally immersive reading experience as characters of Akkiim, Calvin and Jake learn to beat the odds of life's most challenging situation in their own tales.
Full of mysteries, enigmas and thrills to venture, 'Enfolded' continues strong from the first in series and yet remains original in concept and delightful in style. With fiction that seems believable and fascinating, author Jim Malachi has created an engaging narration that readers, adults and fans of fantasy, magic, unimaginable survival and tales concerning the very nature of humanity will adore. Evocative prose and picturesque imagery of this sumptuous sequel creates an uplifting experience for ones mind and soul that is worth the read and highly recommended.