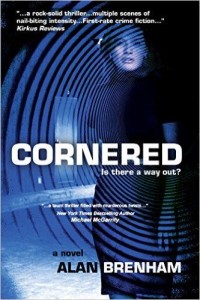 Mystery thriller
Cornered by Alen Brenham is a wonderful and well plotted work of fiction thriller where detective Matt Brady has a case on hand to solve the mystery of disappearance of seven young and attractive women. The book becomes more interesting since Matt is left with no clues or leads which can be the key to his success and he is all by his own to solve the mystery.
Author Alan Brenhams' personal experiences in police and law as a Temple Patrol Officer and Assistant General counsel for Taxes Department of Criminal justice makes the book feel very realistic and enjoyable read. The book has many other characters other than detective Matt who are well portrayed like Brad's ex girlfriend, veterinarian Tracy Rogers and other men who are good and bad who contribute in the writers captivating story style.
Alan Brenhams 'Cornered' also gives us a closer look into today's growing crime 'human trafficking' and the misery faced by its victims. Over all the book is full of adventure, bit of romance, thrill, suspense and mystery. I would highly recommend this novel to all and esp. to all those with interest in suspense thriller with a strong realistic story line.