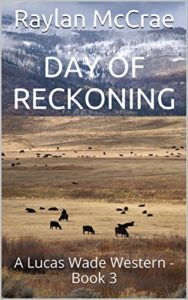 Believable adventurous fiction.
Building excitement in the riveting follow up to the 'Lucas Wade Western Series' author Raylan McCrae grabs his readers with brilliant western adventure at the finest level and with explicit narration that is packed with intense action and detailed imaging as Lawman Marshal Lucas Wade strives to restore law in Spencer, Wyoming but gets deeply sucked up in destructive blood shed between Stock Grower Association and old time ranchers.
'Day of Reckoning-Book 3' continues strong from the first two in series yet remains original in concept and delightful in style bringing authors creativeness to life. The plot moves at a breakneck pace and is combined with vividly detailed settings entwined with intricately developed culture and intriguing situation with endearing protagonist Lucas Wade and other characters.
'Day of Reckoning' is an impressive western thriller that is packed with quest of wilderness oozing out from every chapter making it an engaging read that is strong enough to stand on its own. Those looking for believable adventurous fiction with headstrong protagonist, author Raylan McCrae's book is sure to give them an immersive reading experience with a stunning conclusion. Highly recommended.