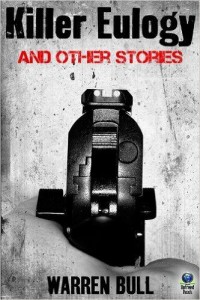 A superb suspense collection!
'Killer Eulogy and other stories' by Warren Bull is a wonderful fiction collection of short stories filled with mystery, murder and emotions.
'Company Policy', 'And Others', 'Killer Eulogy' , 'Natural Killers', 'One Last Job', 'Salvage', 'The Note' and 'On The Edge' are some stories in the book. The stories are very well plotted with mysterious and strong captivating characters. I was totally immersed into the eerie mystery. My personal favourite are 'Company Policy, 'The Note' and 'On The Edge'.
The writer Warren Bull has made his book uniquely different by using simple understandable language and keeping stories short with unexpected endings.
I really loved the writers idea of keeping stories short, crisp and compiled in one book, so this doesn't bother and pressurize the readers to read in one go. One story can be read at a time and according to ones convenience.
This is a highly recommended book to all esp.to mystery,murder detective -type story lovers, the ones who crave suspense thrillers whether they are adults, teenagers or those looking for something short and interesting to read. Its a must read!!