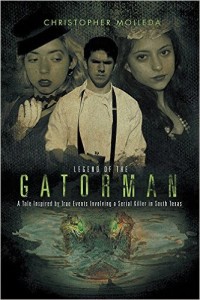 A crime thriller based on real events.
'Legend of the Gatorman' is a well researched work of author Christopher Molleda where he brings down on paper a heart wrenching and bone chilling true story inspired by events that took place in the late 1930s in Bexar Country, Texas involving a series of brutal murders by a barbaric serial killer Joe Black, who was a drug dealer, a bootlegger and a whole lot more evil to add to his negative persona. Joe's involvement with two women Missy and Lottie gave rise to a series of violent events and horrifying murders to which Susie Higgins was the only suffering witness.
This tale unfolds a series of violent criminal acts brought out by a routine investigation over a period of 50 years.
Author Christopher's career in law enforcement inspires him to write about crime in his community where he very skillfully brings out the time of prohibition and physical and mental hardships women went through to help their struggling families.
Exhibiting qualities of a naturally blessed writer with captivating style of narration, author Christopher proves his talent by weaving in emotion and events into a flawless read with vivid description that can only come from real life experiences like author had been through in his career and professional life.
'Legend of the Gatorman' is definitely a start, to get more intriguing crime thriller from this promising writer. Looking forward to read from author Christopher, I'd love to recommend readers with interest in the genre of crime thriller to indulge in this gripping tale with real events.