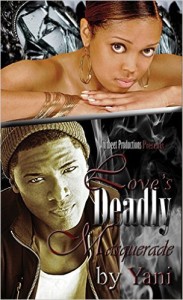 Discouraging the evil of domestic violence
Want to be a witness to abusive assaults? Author Yani gives her readers a thought over the sensitive issue of domestic violence in the form of an intriguing thriller by taking her readers through life journey of a 22 year old, young and beautiful woman Vanessa Lofton whose dream romance with the handsome and charming Eric Washington turns into a dreadful nightmare after 2 year of her relationship, when physical, mental and sexual tortures from Eric make her a captive of domestic violence. Unaware of the upcoming dangers and shattered by sufferings at the hands of Eric, Vanessa decides to escape from his captivity leaving him more provoked to show his sinister side in hunting down Vanessa.
'Love's Deadly Masquerade' is a well paced and well plotted crime thriller where author Yani skillfully throws in twists and turns into the lives of her life like characters, keeping her reader at the edge of their seats and guessing the possible end of the novel.
Author Yani's selection of subject in favour of suffering women and engrossing style of narration sure deserves appreciation that is beyond mere words.
The novel 'Love's Deadly Masquerade' sets a true moral of discouraging the evil of domestic violence and standing against it in every possible way. Highly recommended to all those who respect humanity!