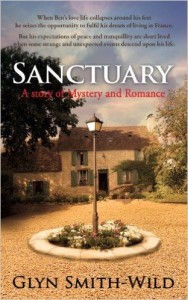 A perfect blend!
'Sanctuary' by Mr Glyn Smith is the most interesting and perfect book a reader can come across! The book was a' masala mix', full of romance, thrill,action, mystery, suspense and knowledge with a very different and a new story line.
The book revolves around a very attractive character 'Ben' who is having a perfect living relation with his girlfriend 'Mary' until one fine day on their fifth year of relation Mary turns Ben's world upside down by telling him about her affair with another guy 'Donald' who she finds has same future plans alike herself. Ben leaves Mary with her decision and decides to settle in France which is his dream place, where he also dreamt of fulfilling it by buying a property (a house of his own) in a peaceful village.
While Ben is still recovering from his painful heart broken affair he is further dragged into a new happening of his co-worker Katie (who always had eyes for Ben) who gives him news about her wedding with Dave Atkinson.
There is lots to come in Ben's life with two women Mary and Katie that readers will find very thrilling and interesting.
The story flows very smoothly like water , touching all the very little descriptive and captivating details of the new lives of the characters in the Novel.
Author Glyn Smith is a very knowledgeable writer who has woven a prefect blend of action, romance ,thrill and property buying information of France.
"Sanctuary" is sure to keep its reader engaged till the very last page and still wanting for more.I found this very interesting and had a very soft corner for the main character 'Ben'.I would love to recommend this book to all and esp. to all those who want a perfect interesting and young companion, when all-alone.It is simply an enjoyable read for all age groups .A MUST READ..!!!!!!