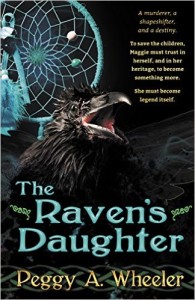 Crime thriller full of mysteries, enigmas & a little bit of romance.
'The Raven's Daughter' is a fast paced read, full of mysteries, enigmas and a little bit of romance that whisks the readers immediately into a highly imaginative and gripping thriller with an ever engaging plot, full of fresh twists and turns.
Retired criminologist Maggie Tall Bear Sloan is pulled into investigating a murder mystery of twin children at the request of her long term friend Sheriff- Jake Lubbock. The thought of her own grand nieces matching the killer profile is one reason strong enough to make Maggie join forces with Jake and his deputy Miguel 'Happy' Ortiz. Adding confusion to Maggie's at hand case is the little romance thrown in life of Maggie by the handsome Mingan Metchitehew, giving an intriguing turn to this engrossing mystery crime thriller.
Author Peggy A. Wheeler's creativeness is just amazing as she keeps throwing characters into situations captivating enough to keep one nailed to her book. Engaging, with numerous complex characters crafted skillfully, author does a remarkable job at bringing each and everyone to life. 'The Raven's Daughter' is a novel with great story line that builds a stunning conclusion least expected, satisfying readers emotionally and waiting for more to come from this excellent teller of mystery fiction author Peggy A. Wheeler.
This book has lots to be discovered between covers, if reveled could be a spoiler. It is really a pleasure to recommend 'The Raven's Daughter' for its worth.