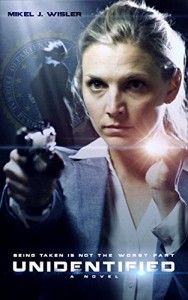 A smarty put through paranormal read
Mystery makes its way from the very first page as author Mikel J. Wisler very skillfully brings his readers under the skin of a horrified young girl of New Hampshire- Stephanie who is experiencing unexplained fear of being watched by aliens and claims to be abducted at night by UFO, landing this unique case at the hands of FBI special agent Nicole Mitchell to investigate.
Full of mysteries, enigmas, puzzles to solve and paranormal activities 'Unidentified' is a smarty put through novel that is sure to scare one and chill their bone with a captivating capability to keep turning pages as author Mikel J. Wisler smoothly combines vivid details of investigation & settings entwined with intricately developed paranormal activities to create an exceptionally immersive reading experience.
The book is fast paced and whisks the readers immediately away into a highly imaginative Sci-Fi, creating an engaging tale with a few characters that are believable and life-like.
'Unidentified' comes as a sure recommendation definitely for the creativeness of author who does an amazing job at placing his characters into intriguing situation with a gripping plot.
Those looking for an entertaining read in the genre of paranormal with a touch of Sci-Fi, 'Unidentified' is sure to please and satisfy their demand.